North Carolina's largest city, in the southwestern part of the state, was named in honor of the wife of King George II, Charlotte of Mecklenburg. Its modern city center, known as Uptown, is where you'll find several of the city's major museums, as well as shopping and dining.
Along with celebrating the New South in its lively streets and cultural scene, Charlotte reflects on its rich history in tourist attractions such as the Charlotte Museum of History and Rosedale Plantation. History buffs can also take the self-guided Liberty Walk to find a series of bronze plaques and monuments that detail the city's role in the American Revolution.
Charlotte offers auto racing fans plenty of things to do, with speedways, racing schools, and motor sports museums, including the NASCAR Hall of Fame. The whole family will find places to visit with this list of the top tourist attractions in Charlotte.
1. NASCAR Hall of Fame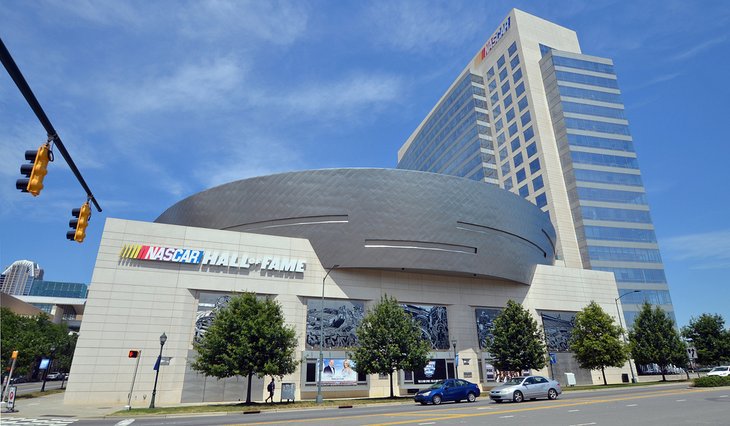 Charlotte's Hall of Fame is definitely the stop of choice for NASCAR enthusiasts, with Glory Road's banked ramp that simulates a racetrack. Here, you can see historic race cars like a 1952 Hudson Hornet, a 1967 Chevelle, and even Dale Earnhardt Jr.'s 2008 Chevy Impala SS. Hands-on exhibits include racing simulators that replicate the on-track experience.
The High Octane Theater features a 64-foot-wide projection screen with surround sound. Other exhibits give fans a behind-the-scenes look at how NASCAR and individual teams prepare for race day, while the Hall of Honor pays tribute to all NASCAR Hall of Fame inductees.
2. Billy Graham Library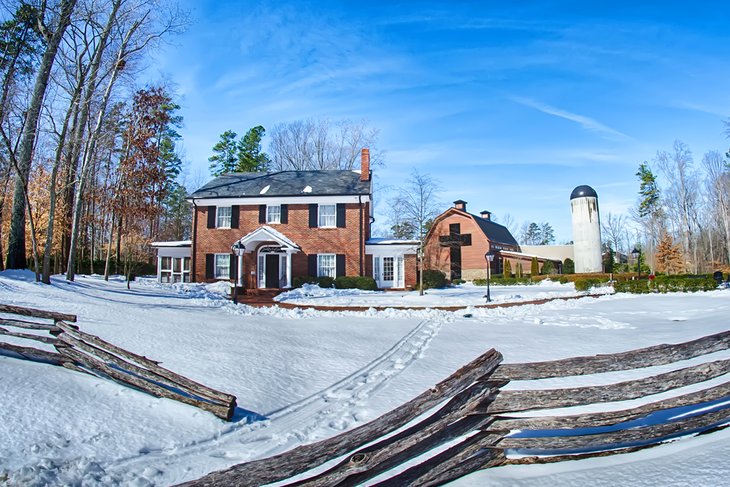 Billy Graham Library | David Berkowitz / photo modified
Inside the Billy Graham Library, visitors can learn about the television pastor's life through displays and multimedia presentations. The 1.5-hour tour includes memorabilia exhibits and a tour of the Graham family home, where he lived from age nine, and which has been carefully restored with some of the original furnishings and Graham family memorabilia.
Also in the complex are Billy Graham's personal library and a mural by Thomas Kinkade. The building, shaped like a barn, is set on 20 acres of landscaped grounds, where visitors can stroll in the Memorial Prayer Garden.
3. Discovery Place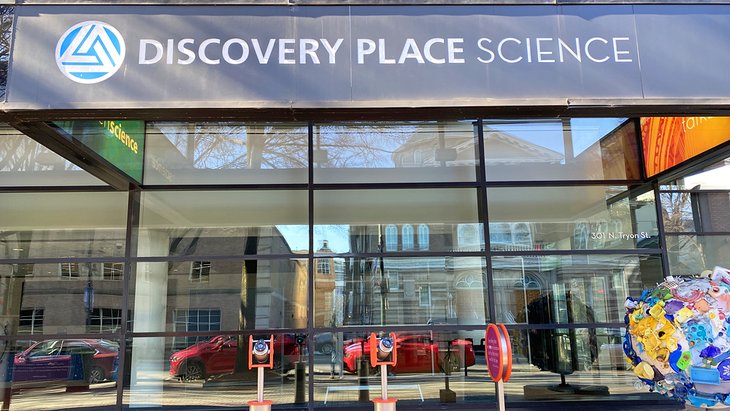 Discovery Place | Chris Short / photo modified
This ever-changing museum allows visitors to see, feel, and hear science. Each exhibit involves hands-on participation that guests of any age will enjoy. The Explore More Life Lab explores biodiversity with the opportunity to participate in experiments, while Project Build looks at the properties of physics using everyday objects.
Think it Up encourages creativity and originality with various projects, including the opportunity to create your own stop-motion animation video. In addition to several more interactive exhibits, children under age seven have their own special area called KidScience, designed just for younger visitors.
All ages will love the immersive experience of the IMAX theater, where you can shrink small enough to travel inside the human body, explore the natural world, or even explore space.
Paramount's Carowinds
Looking for some thrills and chills? Head to the all-ages Paramount's Carowinds amusement park. The "Thrill Capital of the Southeast" provides plenty of things to do, with family diversions, roller-coasters, water rides, and stage shows. A dinosaur exhibit allows you to walk through a Mesozoic setting brought to life with detailed animatronics.
You can also ride the world's tallest and fastest giga coaster, the 325-foot-tall Fury 325. They also have a water park called Boomerang Bay, so be sure to bring your bathing suit. A pet kennel is available to those traveling with their four-legged friends.
5. U.S. National Whitewater Center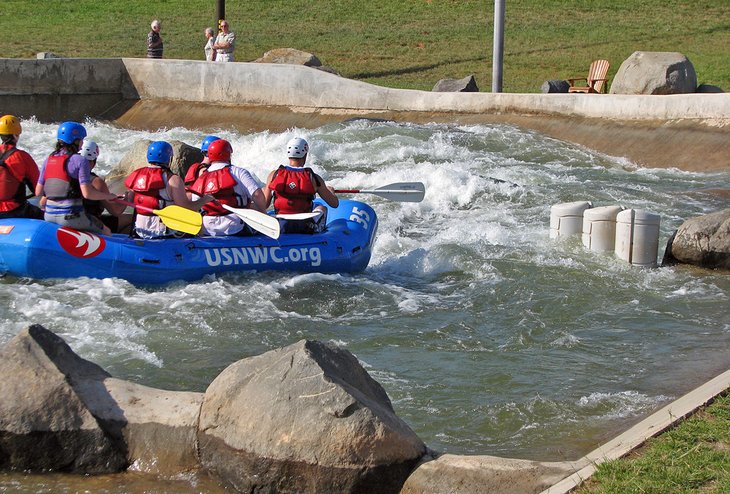 The innovative man-made rapids in the Whitewater Center allow beginners and experienced white water enthusiasts to learn or test their rafting skills in a variety of rapids with the help of experienced guides. Flatwater sports of paddle-boarding, canoeing, and kayaking are offered as well, with instruction and equipment rentals.
Other facilities include climbing walls and multiple ziplines and ropes courses. Set in more than 1,300 acres of woodlands, this outdoor sports center includes over 40 miles of trails for hiking, mountain biking, and trail running.
6. Carolinas Aviation Museum
Both history buffs and techno-geeks can get their fill at the aviation museum, where exhibits cover the history, technology, and evolution of air travel. There are also many aircraft on display, including a replica of the Wright Flyer.
In addition to private aircraft, several military craft are also displayed, ranging from the modern Grumman F-14D Super Tomcat and Douglas A-4A Skyhawk to the Sopwith Camel biplane, one of the most important British fighter planes used in World War I. Also on display are the QH-50 Drone Anti-Submarine Helicopter (DASH) and a Vietnam-era CH-46D Sea Knight copter.
Weather permitting, visitors can tour the planes outside on the tarmac, including the 1999 Airbus A320-214 that earned fame when US Airways Flight 1549 was brought to a miraculous landing after both engines had been disabled by a flock of Canada Geese.
7. Levine Museum of the New South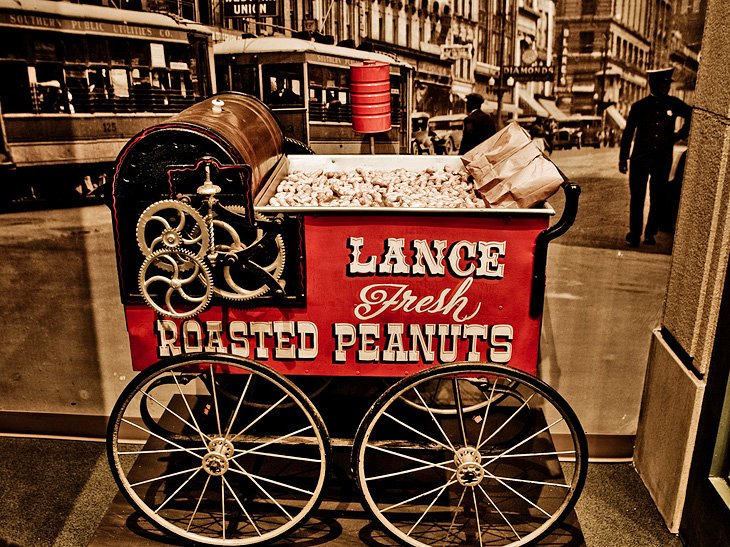 Levine Museum of the New South
The exhibits at the Levine Museum of the New South are focused on post-Civil War southern history and the people who have shaped it. Interactive exhibits allow visitors to run their hand through a pile of cottonseed, play old-fashioned checkers, or step inside a one-room farmhouse.
Cotton Fields to Skyscrapers portrays the evolution of the south through stories from Reconstruction, the economic transformation from agriculture to industrialization, the Civil Rights Era, and the rapid growth of the urban center and changing populations in Charlotte. Temporary exhibits often focus on social and political change and the influence of diversity on southern culture.
8. Hendrick Motorsports Museum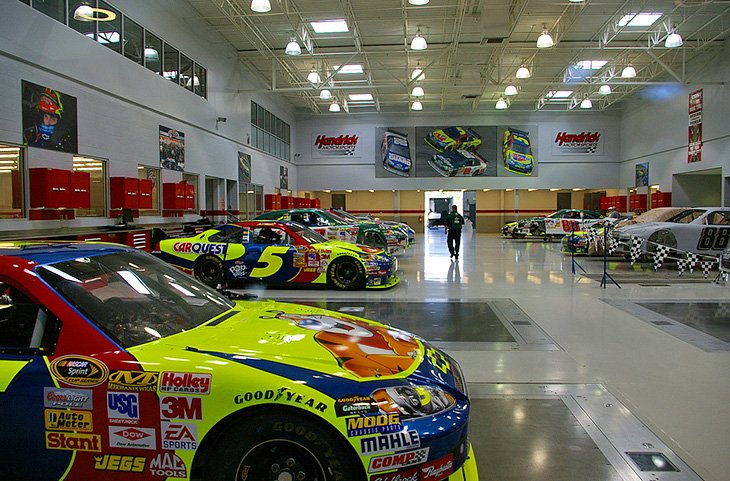 Conveniently located one mile from the Charlotte Motor Speedway, this museum treats race fans to a history of Hendrick Motorsports. Exhibits include an in-depth look at the inner workings of racecars and the elements that make them so unique, as well as the state-of-the-art facilities and technology the NASCAR Cup Series teams use in preparing for race day.
Fans can see Hendrick's most famous stock cars, the company's championship trophies, and significant automobiles such as Jeff Gordon's winning Daytona 500 car. Other vehicles on display here include the Days of Thunder Chevy Lumina and Terry Labonte's Iron Man machine.
9. The Mint Museum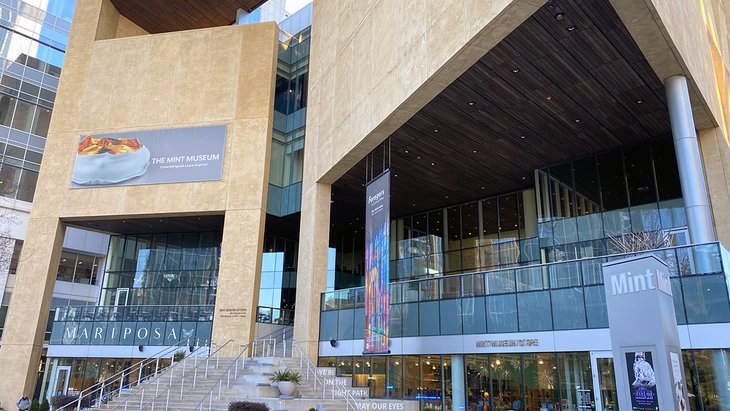 Since its 1936 opening as the first art museum in North Carolina, the Mint Museum of Art has grown into an internationally renowned institution that regularly features new exhibits. Examples of art throughout history are on display in the permanent collections, which include a wide variety of works.
The American art collection is especially strong in Federal portraiture, 19th-century landscape painting, and early-20th-century Realism. The museum has more than 2,500 works of art from the civilizations of the ancient Americas, one of the largest collections in the country and representing more than 40 of the major societies.
Other collections include textiles and fashion, decorative arts, modern art, Native American art, European paintings, crafts, and design. The museum's collections are displayed in two separate locations: Mint Museum Uptown and Mint Museum Randolph.
10. Freedom Park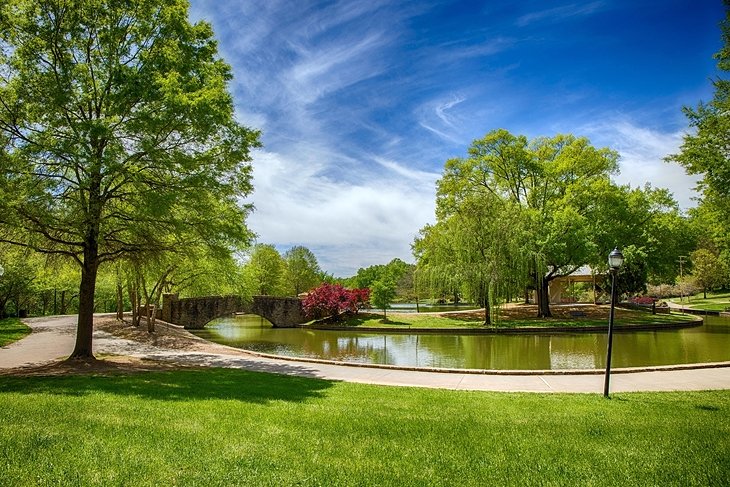 Freedom Park covers nearly a hundred acres and has plenty of activities for everyone, making it a great place to spend an afternoon relaxing or playing. Sports enthusiasts will enjoy the tennis, basketball, and volleyball courts, while ball players can practice their swing in the batting cages or catch a game at one of the four ball fields. There are also plenty of walking trails for a more leisurely visit.
For the kids, there are two playgrounds and the NFL Play360 KidZone, as well as a concession stand for refreshments and lunch. If you prefer to bring a picnic, you can use one of the outdoor shelters that are complete with grills.
This is also a popular place for both formal and informal concerts and performances. It is also the home of the Freedom Park Master Gardener Demonstration Garden, where you can see some of the finest horticulture in the state.
11. Charlotte Museum of History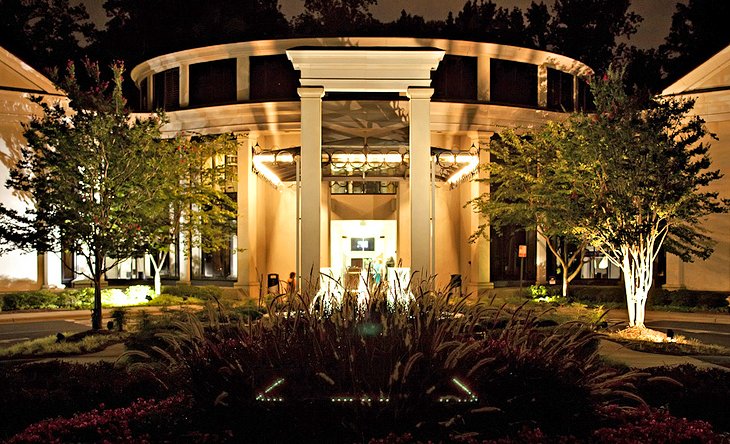 Inside the Charlotte Museum of History, you'll find a wealth of information on the city and surrounding areas. The museum has three permanent exhibits, including one that explores the neighborhoods of Charlotte and frequently hosts traveling exhibits.
Docents lead entertaining and informative tours of each of the beautifully restored buildings, including the Hezekiah Alexander House, the Kitchen, and the Springhouse. You are free to tour the galleries at your leisure, as well as the paths through the historic garden and past the seven-ton American Freedom Bell, a 1769 Spanish cannon, and a stone Chilean mill that dates to the nation's first gold rush.
12. Bechtler Museum of Modern Art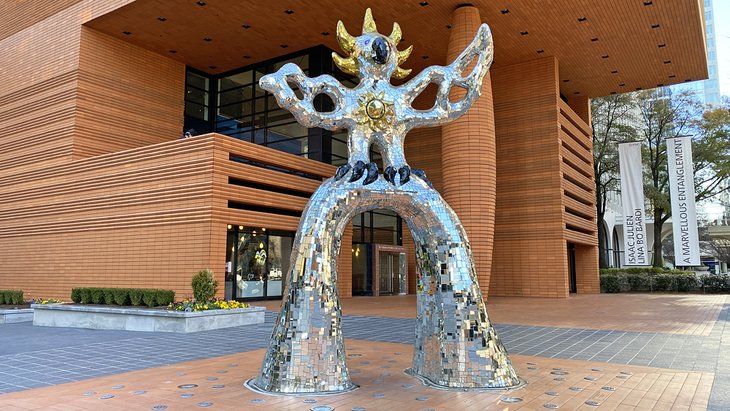 This collection includes works by some of the most influential artists of the mid-20th century, with pieces by Miró, Giacometti, Picasso, Calder, Hepworth, Nicholson, Warhol, Tinguely, Ernst, Le Corbusier, and Chillida. The museum also hosts several music events throughout the year, including a monthly jazz night. The Bechtler Museum of Art is the second museum in the country to be designed by Swiss architect Mario Botta.
You'll find more contemporary art and design, as well as traditional folk arts, at the Harvey B. Gantt Center for African-American Arts and Culture, which spotlights works by African-American artists.
13. Historic Rosedale Plantation
Only a few minutes from busy Uptown, the Historic Rosedale Plantation and its nine-acre landscaped grounds offer a glimpse at life in Antebellum Charlotte. Built in 1815, Rosedale was known as "Frew's Folly" because its owner, merchant Archibald Frew, lavished money on constructing the 4,600-square-foot plantation home.
You can tour the house, a blacksmith shop, and the extensive historic gardens, which include formal beds bordered in boxwood, an outstanding rose collection, and five Treasure Trees, designated for their age, historical significance, size, or rarity in the region. The plantation is known for its majestic flowering trees.
14. Daniel Stowe Botanical Garden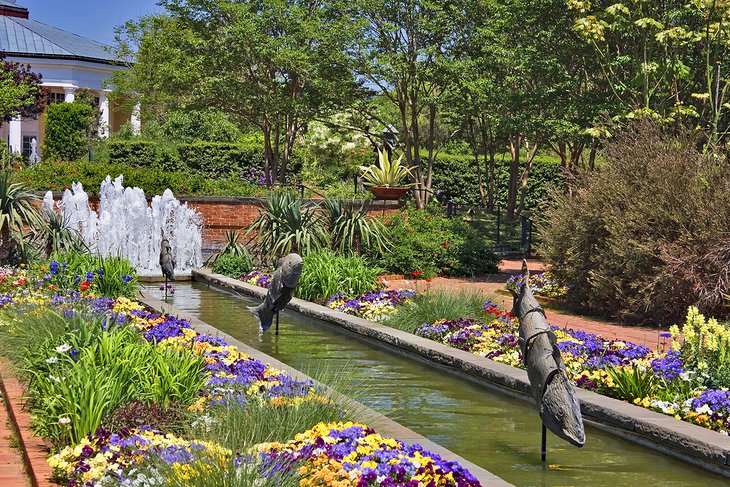 The 110 acres of gardens set on the banks of Lake Wylie are spectacular in all seasons, with a conservatory dedicated to tropical plants and orchids. The 8,000-square-foot, five-story glass house includes a waterfall and an orchid wall draped in showy and fragrant blossoms. Outdoors, the Four Seasons Garden provides colors, shapes, and textures that are pleasing any time of the year.
The Cottage Garden, filled with plants and flowers that were popular in the late 19th and early 20th centuries, is its most beautiful and fragrant in the spring. Stretching for 100 yards and bordered by changing seasonal blooms, the Ragan Canal Garden includes fountains and water shows. The garden is constantly growing, with the latest addition a children's garden area, Lost Hollow, with a sunken pond, play spaces, and plants especially appealing to young visitors.
The gardens glow throughout December with the Mile of a Million Lights, when the lights on the topiary trees dance in time to music, and glittering cherry trees reflect in the canal; fairy villages and seasonal model railway scenes enliven the conservatory. Other special events are Independence Day activities and fireworks and a Chinese Lantern Festival.
Where to Stay in Charlotte for Sightseeing
Charlotte is a large city and quite spread out, however a majority of the tourist attractions, restaurants, and entertainment options are in the downtown core, making this a good place for first-time visitors to stay. If you are in Charlotte to see a NASCAR race, you may want to consider a location northeast of downtown near the racetrack, and families with young children may want to stay in the south, close to the Paramount's Carowinds amusement park. If you are traveling with pets, you'll find a number of pet-friendly hotels in Charlotte.
Below are some highly rated hotels in good locations:
Luxury Hotels: The Ritz-Carlton, Charlotte is one of the city's premier hotels, with first-class service, top-end amenities, a rooftop pool, and luxurious rooms. The sleek and modern Westin is in the heart of downtown, adjacent to the Convention Center and steps to the city's entertainment hotspot, Epicenter. If you prefer to be outside the hustle and bustle of downtown, the sprawling and manicured grounds of The Ballantyne Hotel and Lodge, 18 miles from downtown, provide a resort-like experience.
Mid-Range Hotels: A good choice for families, the Homewood Suites, eight miles from downtown and near Paramount's Carowinds amusement park, features a pool and suites with kitchens. At the top end of mid-range and located right downtown in a building dating from 1929, the boutique Dunhill Hotel is a short stroll to the Blumenthal Performing Arts Center. Located in the trendy Uptown district, the Hilton Garden Inn has large rooms and provides a free shuttle service to local attractions.
Budget Hotels: About ten miles to the south and an easy drive along highway 74 to downtown, the Fairfield Inn & Suites offers excellent value and comes with a breakfast. The new Holiday Inn Express, 10 miles to the north, is surrounded by a good assortment of chain restaurants. Six miles from the Charlotte Motor Speedway, the Sleep Inn University Place has basic, comfortable rooms at an affordable price. All of these hotels have pools.